In recent weeks we've had a lot of rain, then some sleet, and now it's all frozen.  The slush that fell yesterday has formed an inch-thick layer over the ground, the grass in the garden is frozen solid..  So what better time to get out with an RC truck!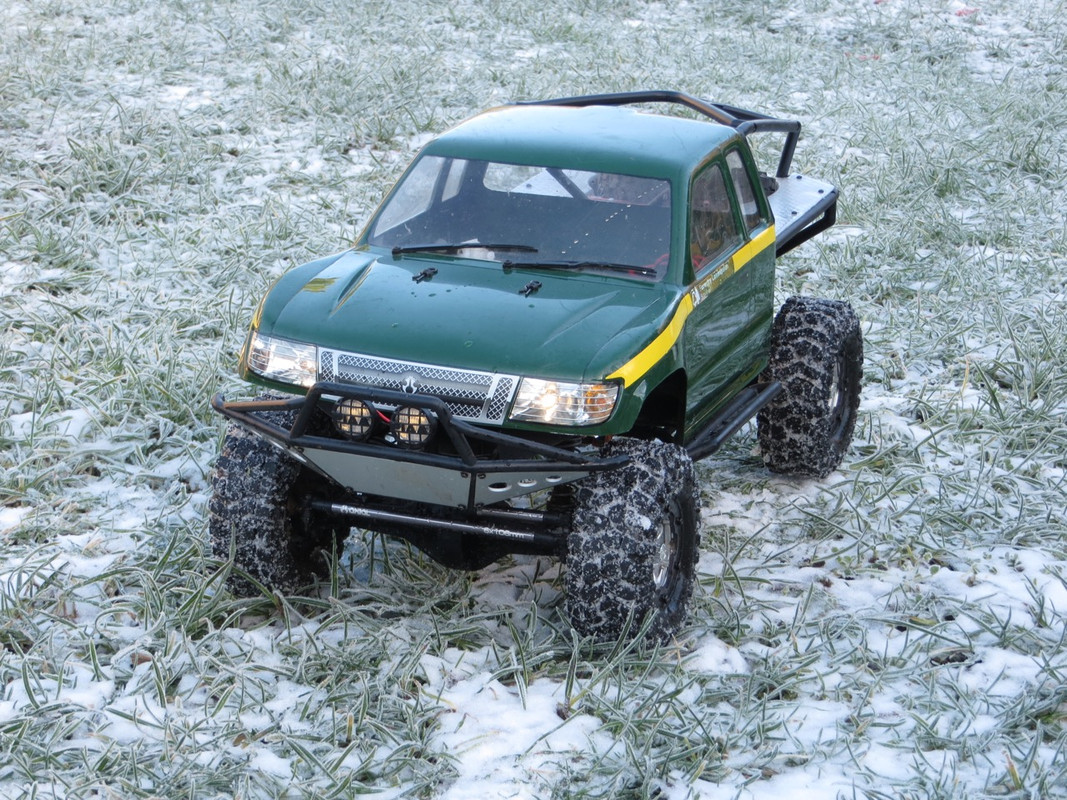 Although the sun was shining it wasn't managing to melt away the frost and ice much at all, walking around quiet roads might as well be like walking on an ice rink so I'd rather keep my bones in one piece, forget cycling until it's at least above freezing.  I considered driving on the frozen pond but a quick tap with the foot showed that the ice was easily broken, last thing I want is for my lovely RC to sink into the mire and probably explode in a shower of burning LiPo battery chemicals.
On my SCX Honcho I've replaced the front white LEDs with warm-white ones, I think it makes the headlights look a lot more realistic; I have further plans to boost the spotlights and (if I can be bothered to order the parts) try to set up some sort of nano Raspberry Pi to control them using one of the auxilliary switches on my transmitter, it involves some programming and a bit of electronics / wiring, shouldn't be too hard but just takes a bit of effort.
I'll also insert a resistor to the rear LEDs as they look too bright to me, as if the brake lights are permanently on.
I'm adding this post to the Wellbeing category as it represents me _not_ doomscrolling (or in my case, watching topical videos on YouTube) or otherwise fretting about world events over which I have no influence or control, which causes anxiety and stress and all the bad side effects that come from them.  Keeping the mind active is of paramount importance during difficult times.